The following table summarizes the current performances achieved by our different versions of the spectrometer:
(*) of most major peaks listed in the SDBS database for common organic solvents with 10 second acquisition
Figure 1 compares the relative performances of the Starter Edition with the Performance Edition for iso-propanol. To achieve the same signal-to-noise ratio, we used a 1 minute exposure time for the Starter Edition and a 5 second exposure time for the Performance Edition.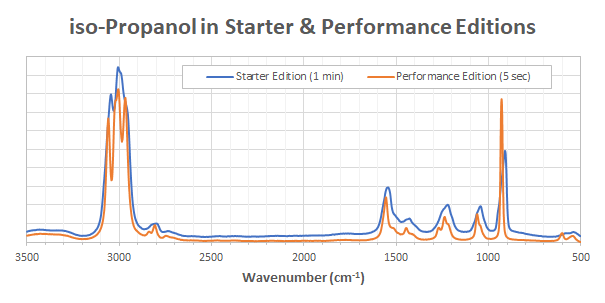 Below you can also find some experimental spectra that were taken with the breadboard version. All the spectra can also be downloaded as raw data .csv files here. They are free to use without any license on them! All the spectra were acquired over 1 minute exposure time with the laser set to about 20 mW power and controller at 22.50°C. Baselines were removed from the spectra using asymmetric least-square fitting method. Please also check our learning section to see experiments performed with the OpenRAMAN setup such as the quantification of methanol in ethanol, evidence of bisulfite addition to aldehydes or the tracking of the ethyl acetate reaction.